Janitorial Supplies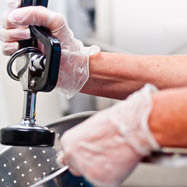 WhiteHall Products offers a full line of cleaning and janitorial supplies including, chemicals, soaps and gloves. WhiteHall will become what we call "Jan-San Supply In A Box". We will have your private label, business-building products in one spot so you can set yourself apart from your competition.
Product Line Details
Chemicals
CleanPak Products supplies many of our chemical products. Check CleanPak Products products for additional details.
Standard Chemicals: High quality and cost-effective chemicals with private labeling available in small or reduced case quantities.
Eco-Friendly Chemicals
Super-concentrate chemical program with simple and effective dispensing systems approved by GSA and used by several upscale hotel chains.
Gloves
WhiteHall Products offers a wide variety of plastic and latex gloves that are suitable for hospitals, restaurants, hotels, prisons and other organizations
where a clean environment is essential.
Other Janitorial Supplies Available:
Health and Hygiene Wear (Hairnets, Aprons, Face Masks)
Mops and Brooms
Soap
WhiteHall Products has what you need for soap. Whether you're looking for bar soap or liquid soap, fragrant or anti-bacterial, WhiteHall Products has what you're looking for.