Paper Products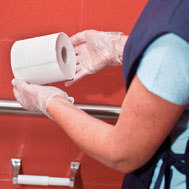 WhiteHall Products offers a wide variety of janitorial paper products to fit your company's paper needs. This product line is building and changing as you read this. It is our goal to become a reliable supplier of consistent product on which you and your customers can depend.
Product Line Details
Our line of janitorial paper supplies include:
Toilet tissue
Multi-fold paper towels
Single-fold paper towels
Hard-wound paper towels
Measurements for paper products are based upon length, width, thickness (gms) and count per package.