Plastic Cutlery & Molded Plastic Products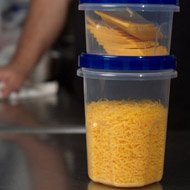 WhiteHall Products offers a variety of plastic cutlery and molded plastic products. Presently we offer cutlery, straws and foam cups, but this is a growing line for WhiteHall as well. Many of these products are imported, and corporate consolidation in these industries calls you to take a closer look at WhiteHall for innovation and cost control, not just taking what is offered.
Product Line Details
Plastic Cutlery
WhiteHall Products offers plastic cutlery the way you need it to be packaged. Whether your preference is individual utensils or bagged as a packet, WhiteHall Products is your plastic cutlery provider.
Molded Plastic Products
Molded plastic products such as food containers can be custom made to your specific needs.
WhiteHall Products' screw-top containers are durable and dependable. They are ideal for storing soups, stews, leftovers, and more. The unique one-size-fits-all lid means you will never have a container that doesn't have a lid that fits! The containers are leak-proof and can be used in the refrigerator, microwave and freezer.
Durable
Leak proof
One-size-fits-all lids
Freezer, Microwave, Refrigerator safe